Who is Mike Barnes?!
Father, Husband, Generalist, Writer...

For work and, if I have to admit it, also for pleasure I investigate and advise on the effective use of communications technologies. But what about other interests? I love the outdoors, and I love sharing it with my wife and my two small boys - who sometimes need a huge amount of persuation to get out there (the boys, that is), but are surprisingly keen on muddy puddles. Their plan is to save animals from extinction when they grow up. I hope they succeed.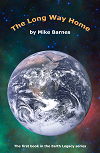 I love to write, and always have done. A few of the links on this page take you to some old scribblings of mine which have survived the years, but my few magazine articles were published in the early days of the internet so, sadly, there's no digital link to them. I've published my first book 'An Infinite Number of Monkeys', which is my magnum opus on a friendly scale and reveals some guidance for making the most effective use of business communications. I've also published a children's novel, the first of a series (hopefully), called The Long Way Home. It's for children of all ages: if you (or they) like Narnia, or the How to Train Your Dragon books then I think you (or they) will like this too. So, while I try to work out the rest of the series, my adult novel Children of Earth, which I started a few years ago but never finished, is still on the back burner.
I hope that despite all these distractions, my kids would agree that they really do, if they're honest about it, get to see quite a lot of me. My wife and I home educate, so there really is no escape from them.
For latest thoughts and views from me, on a variety of topics, please visit my blog.